Best Drones with Camera Under 5000 Rupees of 2017
Drones are becoming very popular in the whole world, it's used for mainly cinematography and photography. unlike a couple of years ago, drones were not easily affordable and available. In those years drones were just an expensive toy or gift and not anymore. But nowadays you can buy the best drones with cameras for under 5000 rupees. Here is the list of Best drones with cameras under 5000 rupees for 2017.
1)    SYMA X5C-1 4CH 2.4G drone with Camera
SYMA is one of the innovative modern toy manufacturing companies. SYMA X5C-1 4CH 2.4G drone is one of their top-selling product. This is an X5C-1 Quadcopter drone with a camera. This is surely the best drone with a camera under 5000 rupees for a beginner with all the modern features. This drone has a 2 million pixels camera that can take photos/videos and it can fly up to 50 meters with a flying time of 5 – 8 minutes. It's the perfect drone for fun entertainment and interesting occasions.
Important Features
Equipped with an HD camera

Perform flips at the press of a button with 360-degree eversion, Wind resistant and can be flown indoors or outdoors

6-axis Gyro stabilization system ensures maximum stability during flight

7 minute flight time and 100 minute charge time

Colorful flashing light, keep your Aircraft at night Flying is quite excellent

Kindly refer to the User manual for troubleshooting steps
2)    Hubsan X4 (h107c) Quadcopter with camera
This is an amazing product from Hubsan. Husban is one of the popular brand in the UAV manufacturers. Husban X4 is also a perfect drone for fun entertainment and it takes very good video for a less than 5000  dollar drone! This is also one of the highly recommend drones for the price.
Important Features
Latest 6-axis flight control system with adjustable gyro sensitivity

Permits super stable flight. With 4 channels

Lightweight airframe with nice durability

Camera: 0.3 MP video recording module included (requires a Micro SDHC card)

4-ways flip(left, right, forward, backward)
3) 

Holy Stone M62R Mini RC drone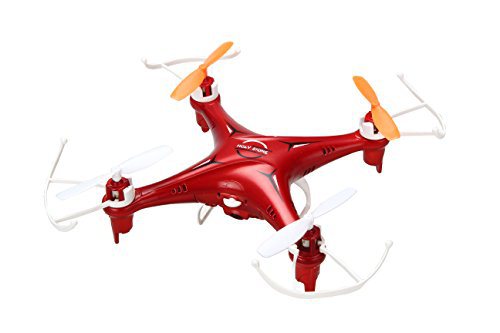 This is one of the cheapest and best drones with camera under 5000 rupees available in the market. This drone costs only 3000 rupees with free shipping. It comes with extra accessories such as an extra battery. a screwdriver and a protection frame. This is the best pick for the money and must have a drone for fun activities. It has a camera which is an added advantage of this drone.
Important Features
Remote Control Control Distance: about 30m
Battery for RC Quad Copter: 3.7V 350mAh LiPO Battery
Charging Mode: USB charging
Charging Time: About 45 mins
Play Time: About 5-7 mins
6-axis Gyro stabilization system
4) UDI U818A Unique drone with a camera 
This is the best selling and well-designed drone with a camera. This drone is originally 6500 rupees and is now at a discount of more than 45%. This is the best chance to grab this amazing drone. Unlike the usual design, this has a pretty cool quad circle design and looks modern. The technology in this drone is also amazing and advanced with 6 axis posture control and 4 channel function. It is surely one of the best drones with a camera under 5000 rupees.
For reviews, news, tips and updates about gadgets and technology follow Techteek on Twitter, Facebook, Instagram and Google Plus.